Circadian Cycle
location: A ZONE
Buckle yourself, fasten your seatbelts and cycle your way through our Circadian Cycle! Experience anti gravitational pull and cycle your way into good times! One of a kind unique activity recently added to the 50+ thrilling activities at Della Adventure Park - it's truly a must try. You can literally live upto the phrase 'what goes round comes back around'. The activity let's you use not only muscle power but also will ensure you balance it out well! The Circadian Cycle is a unique experience to indulge in as it will definitely blow your mind away!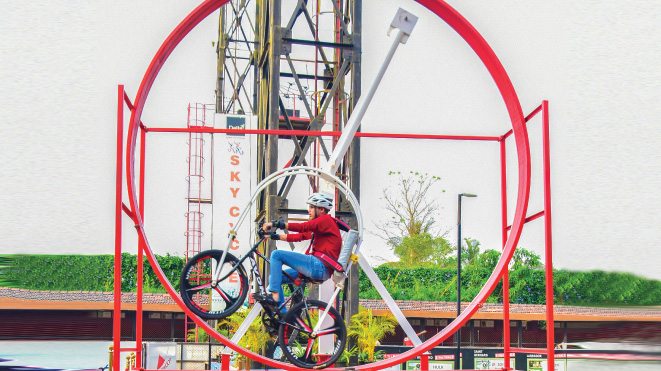 Suitable age group
6 years +
Time taken for this activity
10 mins
safety measures
1. Waist harness and helmet is provided and is it be worn at all times.
2. Wearing shoes is mandatory.
3. If you are pregnant, have a heart condition, neck or back problems, epilepsy, a neurological disorder you should not participate in the above activity. You should seek medical advice first.
4. You must not be under the influence of Alcohol, Drugs or any other substance that may affect your senses.
Note: All the adventure activities are professionally handled by our experts who educate our guest about the safety measures and usability of the activity with the help of our trained Marshals.